FOX Sports: Wayne Irked About Lewis's Dance
Regardless of their play on Sunday, a few Baltimore Ravens went out of their way to be good sports; Paul Kruger, while leading Indy late in the fourth quarter, helped Andrew Luck up after yet another poor stand by Indy's offensive line (that's an accurate assessment of it, as well). I started following the Colts initially because they were a class act. Marvin Harrison. Peyton Manning. You get the idea.
Anyway, Ray Lewis's antics last Sunday, while not out of line or insulting, were slightly less than classy. Baltimore fans will argue that he was playing for the love of the game, that he was having fun in his last home game, and they're not wrong. Still, Lewis played a decent game against a team who shouldn't have made the playoffs in the first place, and Colts players and fans, like Reggie Wayne, would say that Lewis's actions were disrespectful.
Regardless of the outcome, everyone can appreciate a class act like Paul Kruger. Kruger finished the game with three tackles and almost three sacks, and still had the decency to help Luck to his feet later in the contest. Not to say that Ray Lewis wasn't or isn't a great player, but the best players let their play excite the crowd - not their legacy.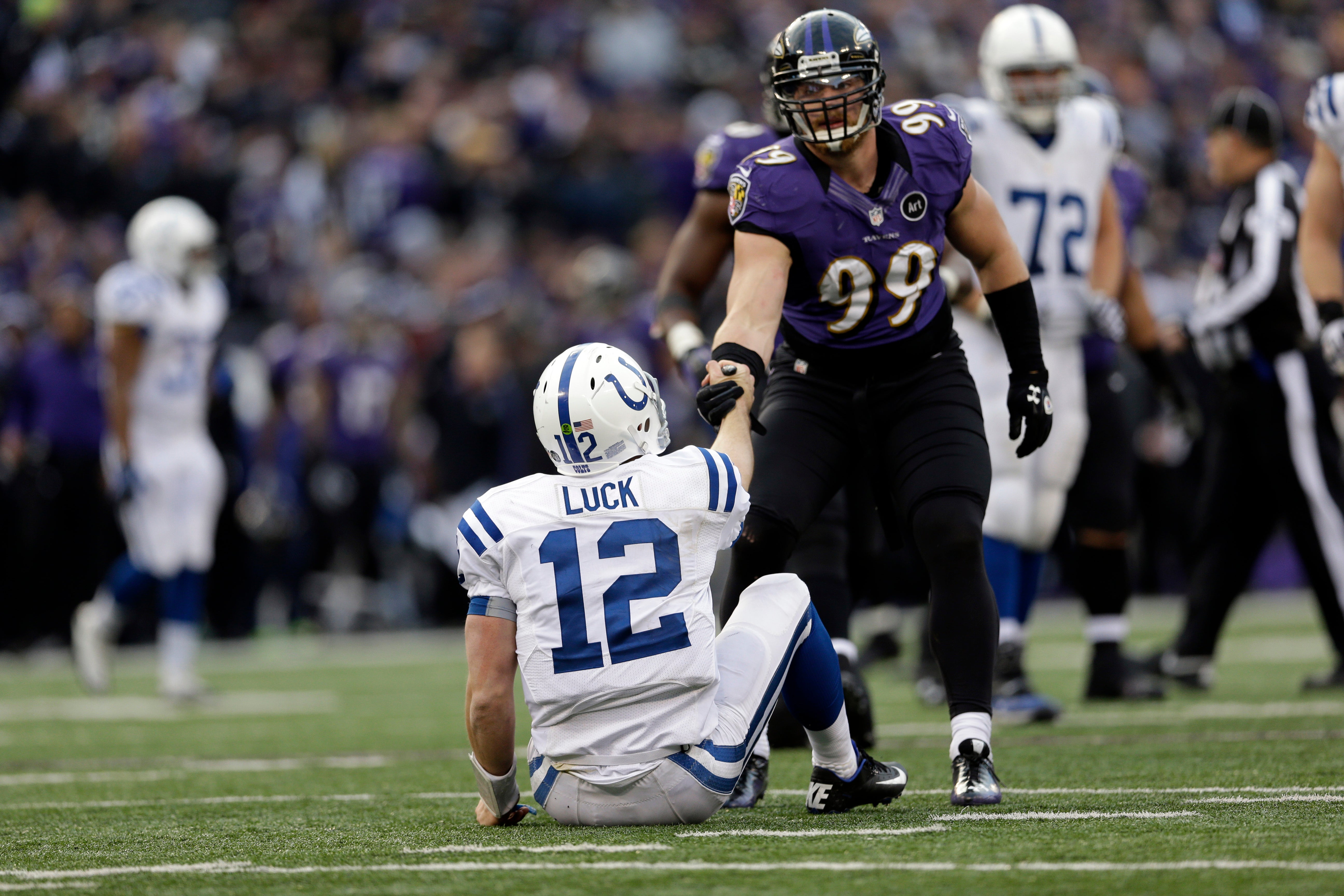 Cousin Sal brought up an interesting idea on the BS report.  London Fletcher and Ray Lewis had the same type of career.  Lewis' numbers are slightly better than Fletcher's but with a much stronger defense.  Nobody talks about Fletcher in the way they talk about Lewis. Maybe its all of the flash and look at me bravado.  I personally think he's showboating.
One other thing Cousin Sal brought up, Lewis leads Fletcher in convictions as well...
Non-starter. It was the man's last hurrah at home, they won...if he wanted to take a dump on the field, let him. What is classy and what isn't? It wasn't like he was mocking the Colts...like Lewis said later, Reggie must have made the comment in the heat of anger at losing...it's no biggie...at all. If anything, one could say Reggie was whining actually.