Five Plays in Free Agency - WR Dwayne Bowe.
Heading into this period of free agency, Colts fans have been consistently tossed three names with regard to upgrading the offense - Dwayne Bowe, Greg Jennings, Mike Wallace. When looking at our receiver depth last year, any one of the three would seem to be a real upgrade - but are they worth the contract they'll likely receive on the open market?
As I explored last week, the concept of 'value' with this current Colts team can also incorporate veteran players and the value of tuition - the benefits of having Reggie Wayne and Greg Jennings for example would I hope pay dividends in the route running of our other recievers.
When it comes to the three players in question, I'm not a massive fan of any of the three. Wallace and Bowe both have their issues with dropping the ball and concentration, while Greg Jennings has had injury issues in the past couple of seasons culminating in the usurping of his role by Randall Cobb and James Jones. Today I'll do my best to illustrate the style of Dwayne Bowe's play, along with pointing out positives and negative observations along the way.
I'll begin by showing a few of his highlights from 2012 in order to get the most recent picture of his play. An important caveat to the first three i'll show is context - all three touchdowns receptions were in garbage time or something approaching it. The first two - from the Bills vs Chiefs game in Week 3, 2012 - came with the score at 35-3 and 35-10 respectively. Make of that what you will, i'll come back to it later.
Bowe is matched up outside on Aaron Williams (#23 - CB/S) with the score at 35-3, as mentioned. It's a 1st and 10 from the BUF 33, and Bowe is going to run a route down the sidelines to try and get some points on the board.
Cassell stares Bowe down from the off - though given the proximity of the route to the sideline, he doesn't have to be overly worried about the safety coming over the top of the route. In any case, he's 32 points down with a 0-3 TD:INT ratio - he doesn't need to be overly worried about throwing picks at this stage.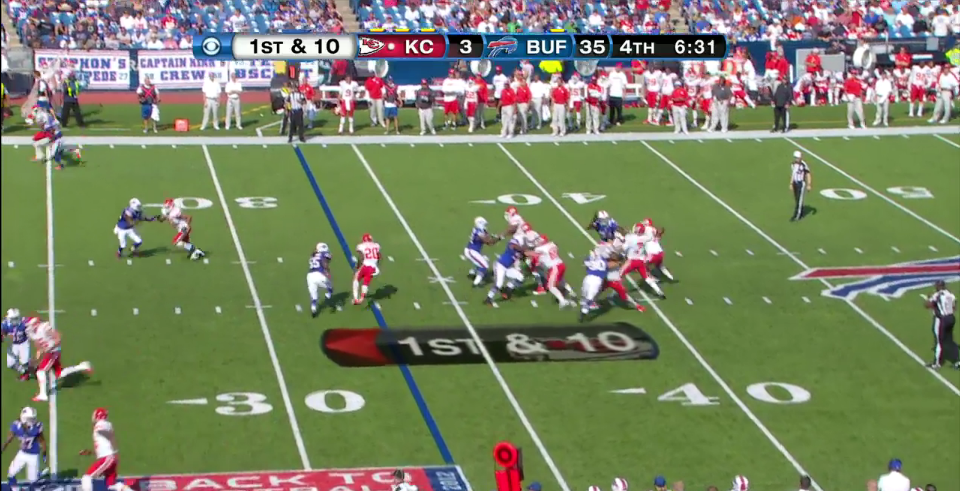 You can just about see Bowe at the top left of the frame, and you can also see the slight separation which he's managed to produce at this point in the route. Having watched a fair amount of Bowe in order to write this piece, Bowe's speed comes as he accumulates distance downfield - he's fairly slow when it comes to setting up short routes, and displays some wasted footwork at times.
In any case - Cassell launches it up, and here's where Bowe's positives come into play. He's excellent at locating the football and high pointing the reception, particularly when there's competition in and around his body. His strength allows him room to push the corner out of the target area, and thus he establishes himself as the favourite from the off.
Bowe reels in the catch with little difficulty, displaying his prowess in the jump ball. Williams' positioning leaves a lot to be desired, even down 32 points in the 4th quarter.
Bowe manages to maintain control and falls into the endzone for a touchdown - 35-10. It doesn't get any easier for Williams - Bowe's garbage time sensor was probably going haywire at this point.
At 35-10, the Chiefs make a bold attempt to salvage some pride, and again find themselves deep inside Buffalo territory. It's a 1st and Goal from the BUF 2 with 1:14 left on the clock in the 4th quarter.
Bowe is running a route to the corner of the endzone, and it's a fade - given it's Cassell at QB, I'm wary of categorising it as a back shoulder fade, the jump-ball variety, or something else. Either way, it's a throw designed to take advantage of the mismatch - Bowe vs. Williams - with an eye on Bowe's physical attributes.
Bowe takes an inside step - designed to shift Williams from his spot and allow Bowe some extra room on the outside. He displays the cumbersome footwork which I'm not overly enamoured with, before making his outside move.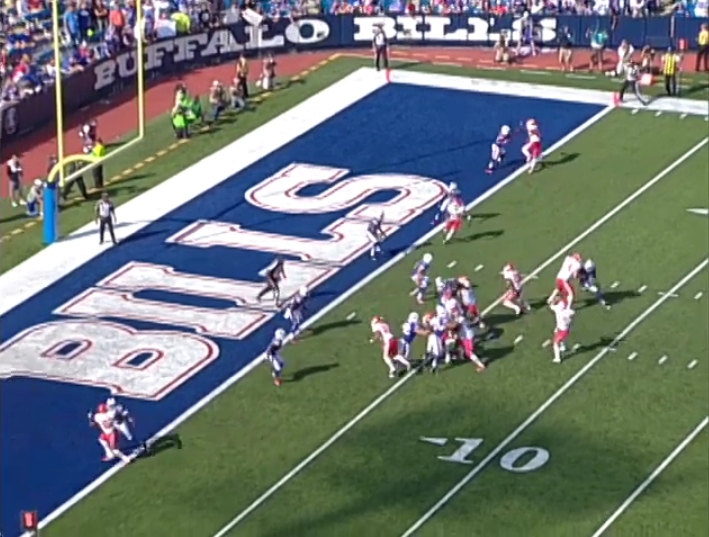 Williams doesn't do a particularly awful job - he stays with Bowe, even if he's completely unaware of where the ball is. He's simply dealing with a bigger, more refined player opposite him.
Bowe does what he's best at - turns around, locates the football and snags it out of the air at a high point. Williams can't really do anything to stop him, despite the questionable throw.
So - if you wanted Dwayne Bowe for one thing, this would be it. Turn, locate, catch.
...and his ability to high point the reception is a plus.
Williams was clearly outmatched on both pass plays, though the gifts Bowe is endowed with are fairly clear for all to see.
The following play comes from Week 4 of 2012, against the San Diego Chargers. This is Bowe's final touchdown of 2012, so after this play you will have seen all three of his scores from last year. There's roughly 6:30 on the clock in the 4th quarter, and it's a 3rd and 7 from the SD 29.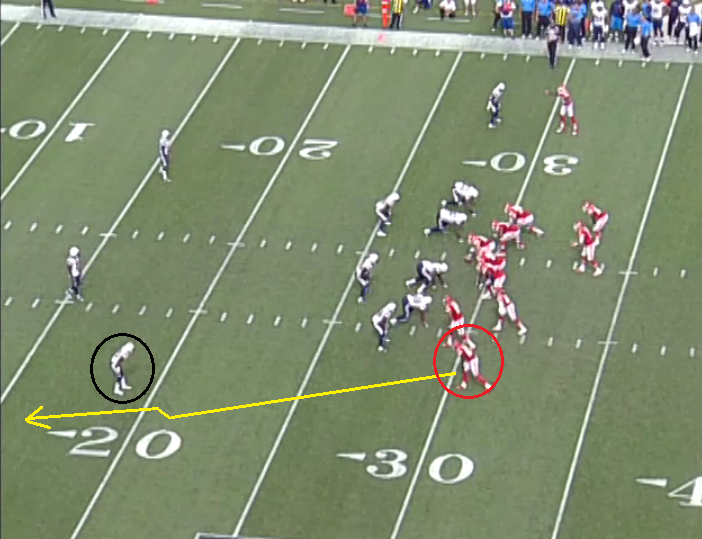 He's lined up opposite Antoine Cason with a full 12 yard cushion in the intervening space. He's going to fake an inside move at the 20, and it absolute destroys Cason. For someone without particularly outrageous speed/agility, it's a fairly impressive job.
Cason maintains a degree of distance, allowing Bowe to erode 5 yards or so of the original cushion.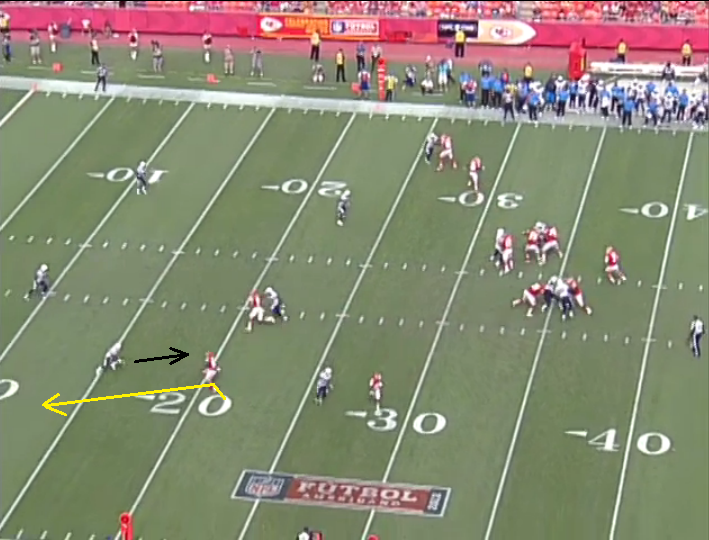 Bowe then springs the trap - he fakes the inside move, and Cason bites with every fibre of his being. The corner drives on the inside route hoping to make a breakup or an interception, and Bowe barely breaks strike in altering his route back downfield. As you can imagine, the gap swiftly opens up.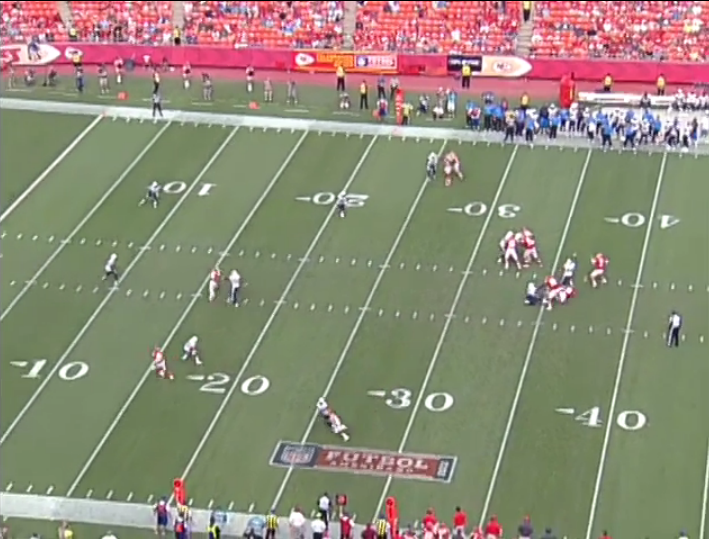 Cason gets caught completely flat-footed as he realises what has transpired, and by this point it should be too late. Bowe streaks down the field, and is wide open to say the least.
Cassell being Cassell, the ball is underthrown. Turn, locate, reel it in.
And while it ends up looking far harder than it should have been, Bowe reels it in at the 1 and takes it in for the score. Atrocious from Cason, it must be said.
Having found a suitable play from the very same Chargers game to highlight Bowe's skill in run blocking, it's time to again focus on a Bowe vs. Cason matchup.
The run in question is a toss play to the weak side of the formation - with a fullback and an active blocking corner to his right, Jamaal Charles has a fair chance of success. On the play in question, Bowe should be almost irrelevant. Charles' ability when the play breaks down however necessitates concentration on behalf of the receivers, and Bowe does a good job in this respect on the following play.
The outside receiver on the opposite side of the formation to Bowe runs swiftly inside to block the SS, in theory allowing the FB to either block out wide or seal the pile inside.
The FB opts to block inside, though the play recognition on behalf of the Chargers necessitates a Charles cutback. When you have a runner with the capabilities of a Jamaal Charles, always pay attention.
Bowe swiftly appraises the situation, and realises what he has to do.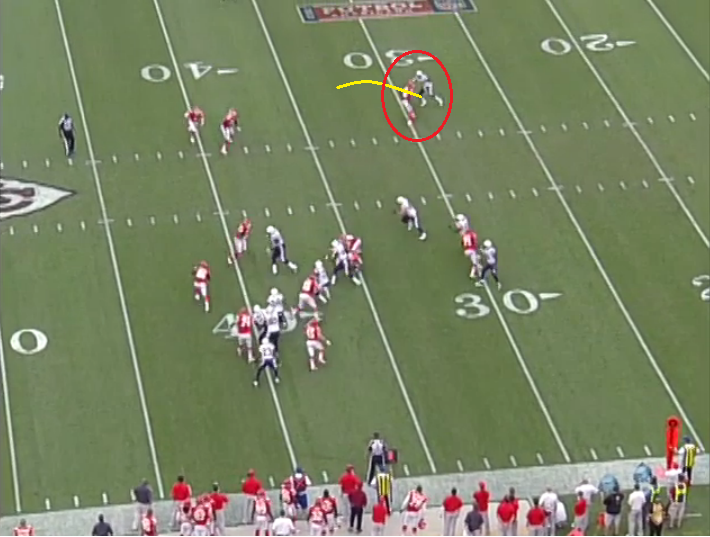 Cason seeks contain on the outside, given he's aware of Charles' speed and breakaway ability. He's attempting to do the best job possible, while hoping his teammates can plug the massive void inside.
Unfortunately for Cason, Bowe sizes him up and simply has the beating of him. He's bigger, stronger, and seems to understand angles and leverage when it comes to the run game and blocking.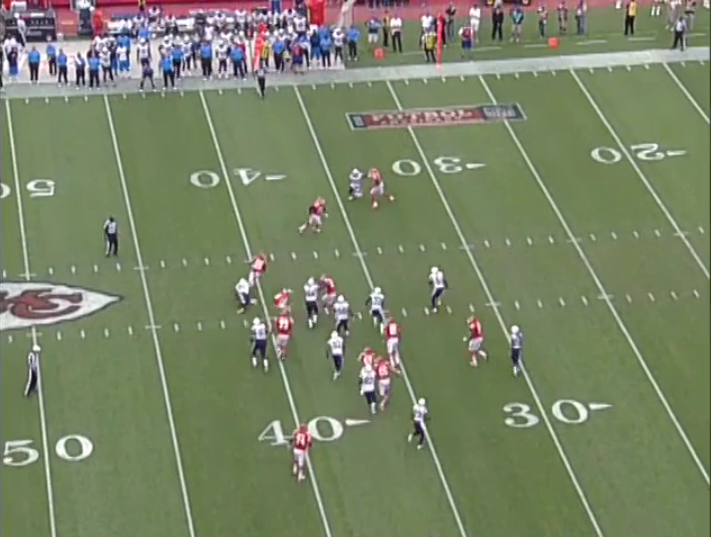 The key here is that Bowe makes a decisive block one way or another - decisively inside, or outside. He opts for the latter.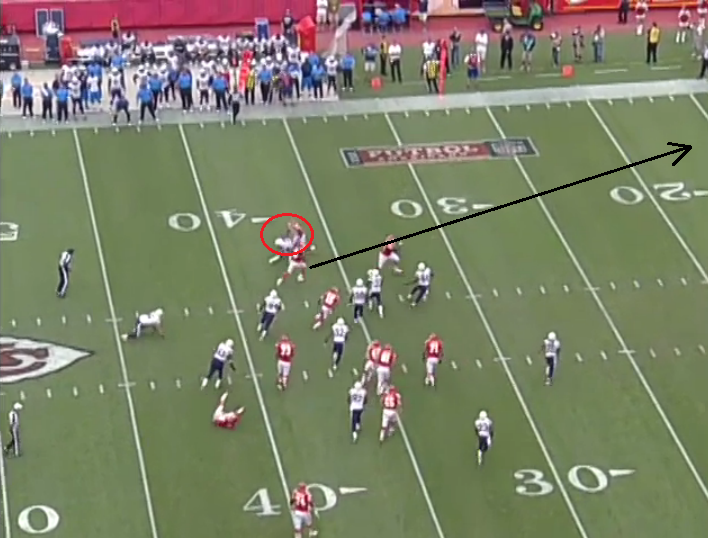 He seals off the edge and springs Charles loose for a long touchdown. Bowe shows the merits of patience and adept run blocking, without which long runs are nigh-on impossible to produce.
The final play I've selected comes from a couple of years ago - and I'm sure the vast majority of people reading will remember it. Perhaps it isn't fair to go back years to bring back one specific play, but it's coloured my perception of Bowe - if unfairly - since it happened.
Taken from Colts-Chiefs 2010, it's a 1st and 10 from the IND 31. Immediately prior to the play, Peyton Manning was picked off - given the time on the clock and the closeness of the game, the Chiefs could be said to be in an advantageous position.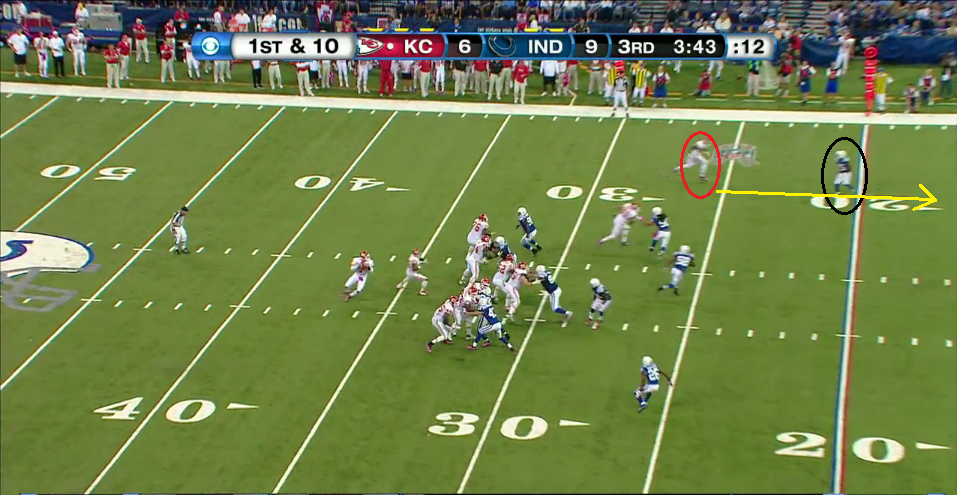 Bowe is matched up on Jerraud Powers, and is simply seeking to blow past Powers into the endzone. Given the concerns over Powers' size and speed, it's a fair ploy.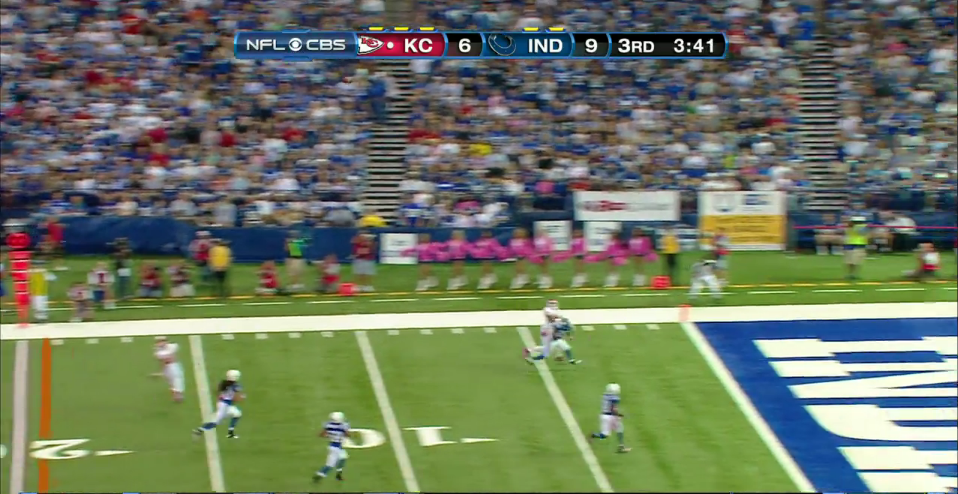 Bowe turns back to the locate the football, in time-honoured fashion. He comprehensively outmatches Powers.
He high points the reception, and all seems well for a split-second.
He completely fails to control the ball as he tries to bring it into his body to complete the reception, and it falls incomplete. Given the context of the game and the ridiculous nature of the drop, it's absolutely huge.
One moment, you're catching a beautiful touchdown pass to lead the game against Peyton Manning..
The next, you aren't. I could barely comprehend the drop at the time and still fail to do so now - absolutely staggering.
Conclusion
Dwayne Bowe is an accomplished receiver with attractive physical tools - he's tall and strong with a penchant for making highlight reel grabs. He's an adept run blocker with what appears to me to be a decent understanding of angles, leverage and the vitals of making the run game work.
Problems arise when you start to consider drop rate, character issues, and the lack of consistency from one year to another - whether in numbers, touchdowns, whatever it might be. The primary area of uncertainty regarding Bowe is the level of quarterback play he's been accompanied by during his time in Kansas City - particularly with reference to last year. People who support the idea of Bowe's acquisition will lambast Cassell, Quinn in an attempt to justify their choice. Those on the opposite side of the argument won't entertain this point, and so it ultimately comes down to the individual to decide which side of the fence they lie on.
For me, Bowe is too much of a risk. In financial terms, he'll be expecting a contract in the $10m+ p/a range, and that's simply too much for an inconsistent player who is prone to the occasional drop. While he doesn't possess the speed of Pierre Garcon, I cast the two players similarly in my mind - very near to being the complete package, with the drawback of poor hands.
The question of offensive development also raises itself considering our situation at QB - will Bowe help Andrew Luck's development, long-term? I don't see it. He's adept at making contested catches in tight spaces, but he isn't a separator in the mould of a Greg Jennings or Reggie Wayne. Having Reggie on offense must be a dream come true for a QB - crisply run routes with no wasted footwork, ridiculous hands to rely on in crucial moments - not something Bowe is renowned for.
When considering his expense and what he brings to the table, the choice is fairly clear for me.
Verdict: Do Not Sign (and avoid Cason, too)
@CA_Savage