Where on earth did that come from? After mediocre defensive performances against the Raiders and Dolphins, the Colts defense was primed for a shellacking last weekend in San Francisco against a dangerous offense incorporating the dual threat of Colin Kaepernick and Frank Gore at QB/RB. In the event, the Colts held the Niners to 254 total yards - completely unforeseeable.
How was it accomplished? There are a few factors to consider, in my mind. The first is the absence of Vernon Davis - having looked as though he was likely to play all week, Davis ultimately wound up inactive on Sunday, and it showed. The 49ers offense - previously the model of versatility at TE utilising Davis, Delanie Walker etc etc - looked completely flat from a passing perspective, and I'd put that down to the loss of Davis along with Michael Crabtree much earlier in the year.
The above leads me onto the second factor - the indecisiveness and development of Colin Kaepernick. He simply doesn't look like the passer we saw last year, and looks timid and afraid when it comes to putting the ball on his receivers, even Anquan Boldin. The aforementioned loss of Davis on top of Crabtree does give him some leeway there, though it doesn't really excuse his performance on Sunday, which as I alluded to earlier was poor to say the least. Having watched the tape two or three times over, there are numerous occasions on which Kaepernick should be completing the pass, often to a man in a fair amount of space.
The third factor? Damn good defense, which I don't think many (myself no exception) saw coming. Kaepernick's confidence issues with his receivers combined with some tight coverage allowed the defense to lock it down through the air, with some shorter passes to Boldin inevitably completed. LaRon Landry and Pat Angerer largely weren't missed, with the absence of Davis crucial to masking the limitations of their replacements - Delano Howell and Kelvin Sheppard/Kavell Conner - in the passing game.
I think there are two particular performers worthy of praise this week, both universally lauded Grigson acquisitions: Jerrell Freeman and Cory Redding. Freeman was simply the most impressive linebacker on the field - Willis, Bowman, Mathis.. nope. Freeman was the standout guy, flying around the field with reckless abandon to try and stall the 49ers ground game - and given Kaepernick's limitations on the day, he frequently found himself targeted in coverage on the shallow routes Kaepernick was confident enough to try. He ended the day with an impressive statline: 8 tackles, a sack and a forced fumble.
Here are a couple of plays from Freeman's big day..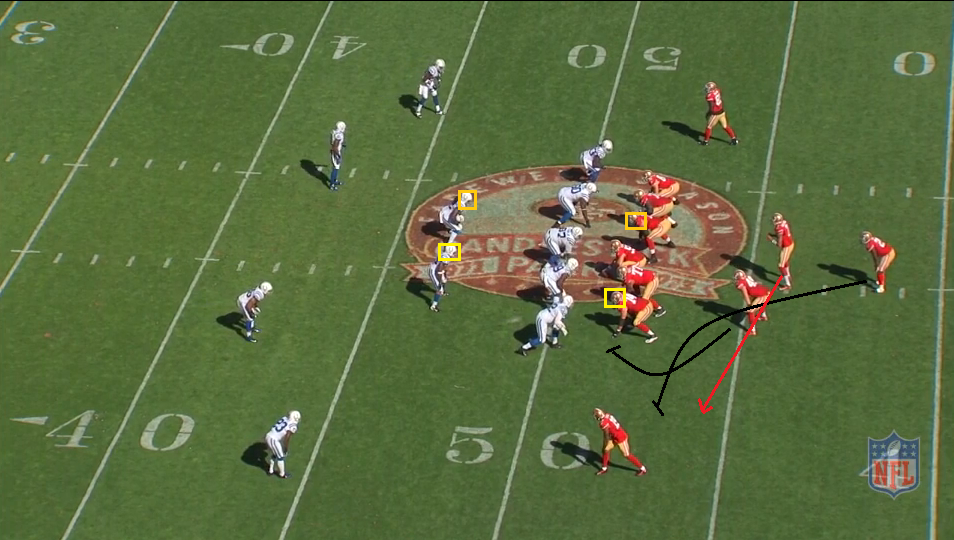 The 49ers are at this point down 13-7 with 5:00 remaining in the 3rd Quarter. It's a 1st and 10 from the SF 49, and they're continuing their efforts on the ground with the option threat of Kaepernick ever-present.
no comments