Five Plays in Free Agency - Cory Redding Spotlight.
Given the doom-laden prophecies laid out for the Colts upon the release of Peyton Manning, it'd be easy to slip into retrospectives and think about what we had and have lost. This situation would've been compounded if the front office hadn't taken a sharp approach to free agency. Fortunately for us all, it appears that they have - focusing primarily on the offensive and defensive lines, little surprise given Chuck Pagano's stated intent to make the football team stronger and larger, with an emphasis on running the football.
One of Pagano's acquisitions to aid the transition is Cory Redding, a 5-technique DE in the 3-4 alignment with the versatility to kick inside and play tackle. Given his status as one of the better free agents available for a team such as the Colts (with salary cap restraints and such), I'd like to delve into his play last year to see exactly what he can bring to the Colts in terms of playmaking ability and penetration.
Without further ado, I'd like to begin..
Play #1 - Baltimore Ravens @ St. Louis Rams - Week 3, 2011.
While there's no replay for the following play, you'll see enough of Redding's block shedding ability to make your own judgement.
The Ravens line up in the base 3-4 on 3rd and 10, with the interior linemen focused on absorbing and shedding blocks to free up space for the linebackers. This doesn't mean they can't blow up the play themselves, as we'll see here. I've circled Redding in red (appropriate), and the handoff from Sam Bradford to Cadillac Williams is behind RT.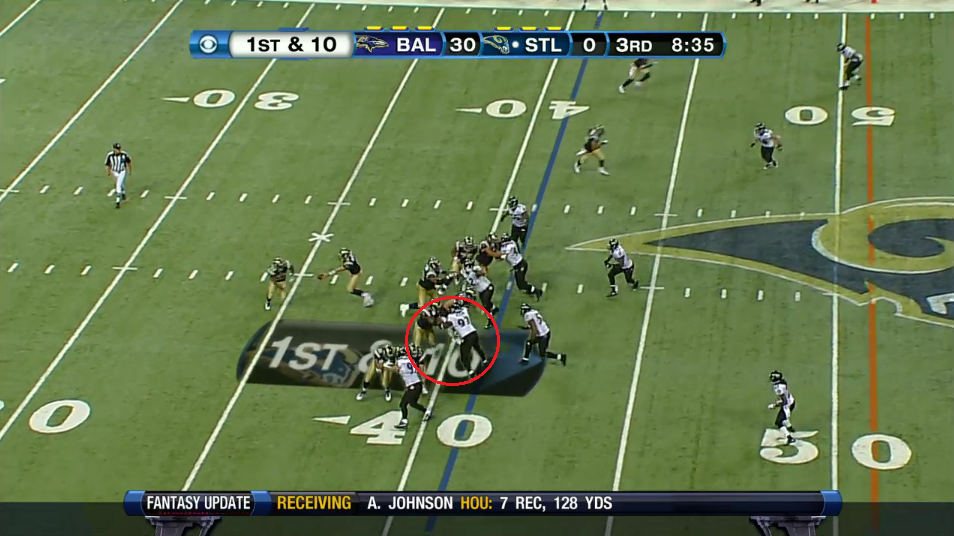 Upon the snap, Redding immediately vies for the outside shoulder of the RT, and he uses his peripheral vision to note the play is coming his way. The awareness required for a lineman in the 3-4 is arguably more than the regular 4-3 counterpart, given concerns of gap responsibility.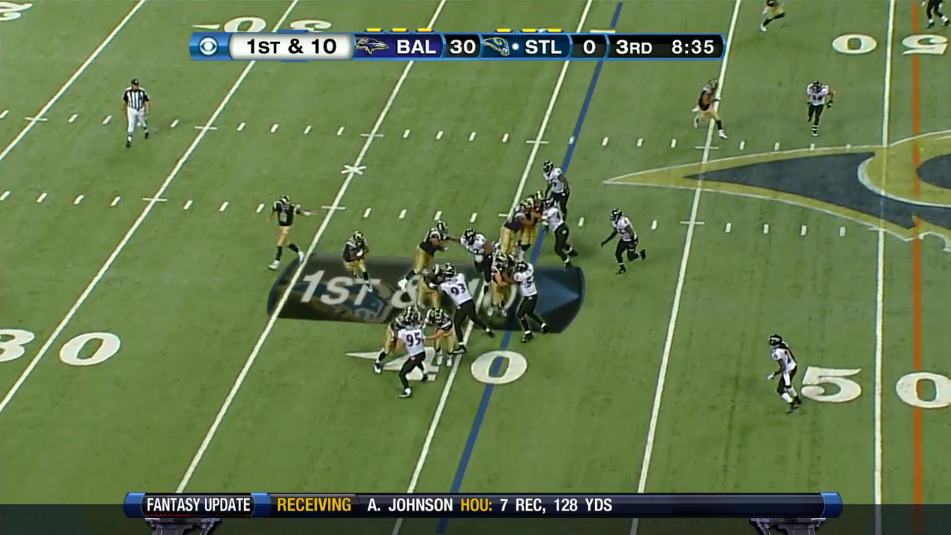 He fully extends to leverage the tackle while still making sense of what is transpiring in front of him. His penetration through the offensive line causes Williams to veer off to the right in the hope of either a cutback or a run around the edge.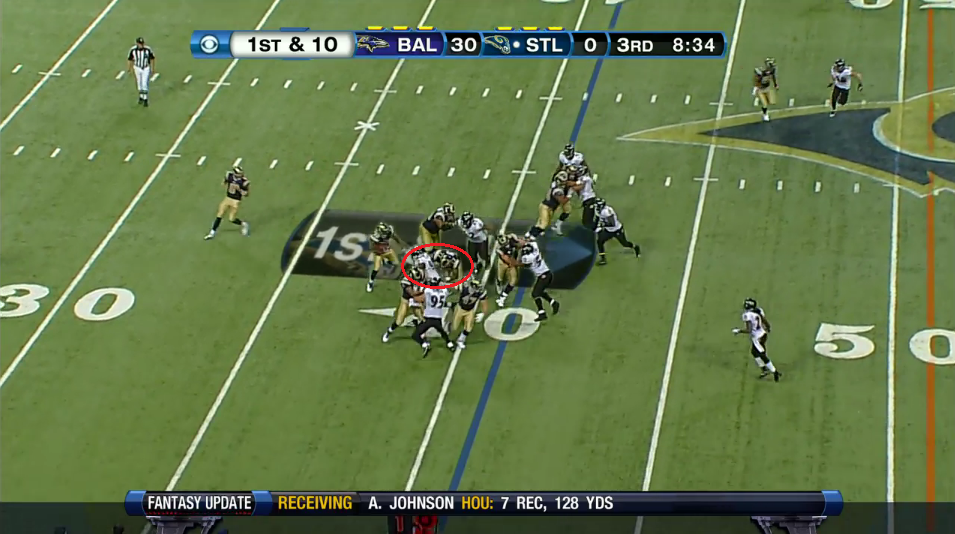 In a flash, Redding disengages from the tackle and lunges for the ball carrier. He gains enough contact initially to stop Williams' forward motion.
The line eventually collapses entirely, through which Redding is maintaining a solid grip on Williams.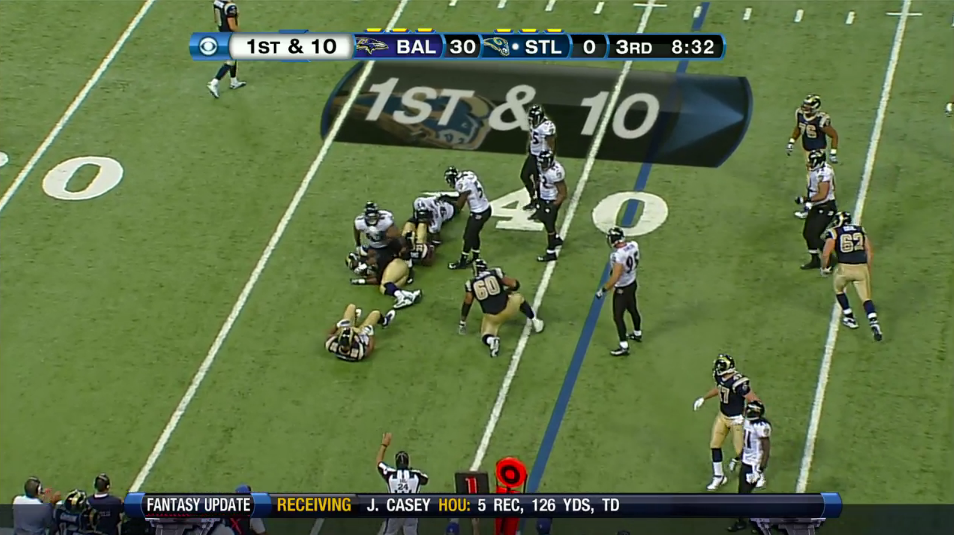 It's a 2 yard loss and an impact play from Redding. He showcases the ability to maintain concentration on the play at hand while simultaneously tossing around offensive linemen like toys. A couple of ticks in the notebook.
Play #2 - Baltimore Ravens @ St. Louis Rams - Week 3, 2011.
Later in the same game (which evidently turned into a beatdown), Redding is at it again, penetrating the Rams offensive line at will.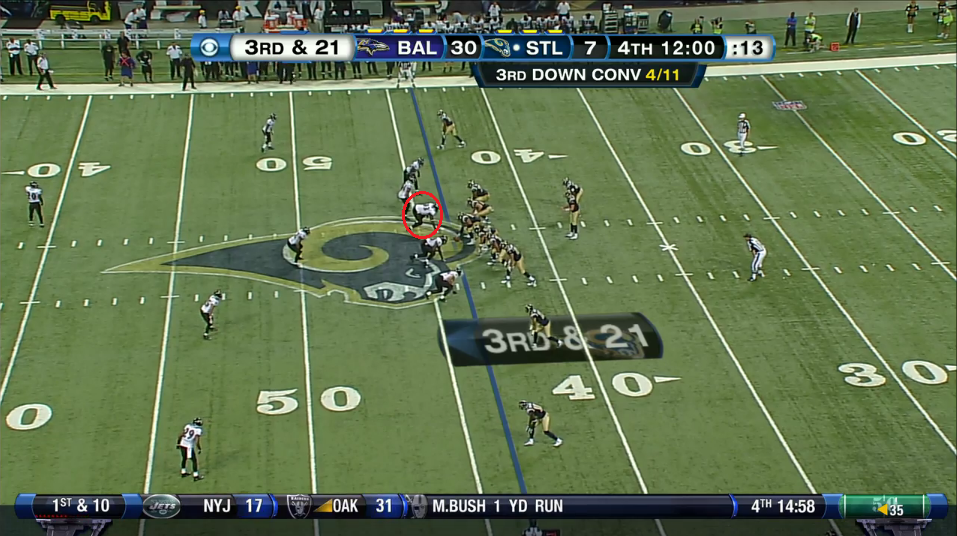 He lines up inside as part of a 4-man line, in which Terell Suggs is left in the standup position or otherwise - he has the discretion. The Ravens are running a base nickel formation with 2 linebackers and 4 linemen.
As the ball is snapped, Redding forces himself forward into the opposing RG, trying to free up gaps for the stunting rusher to his left. In the event, Redding does a reasonable job and is obstinate enough to make progress.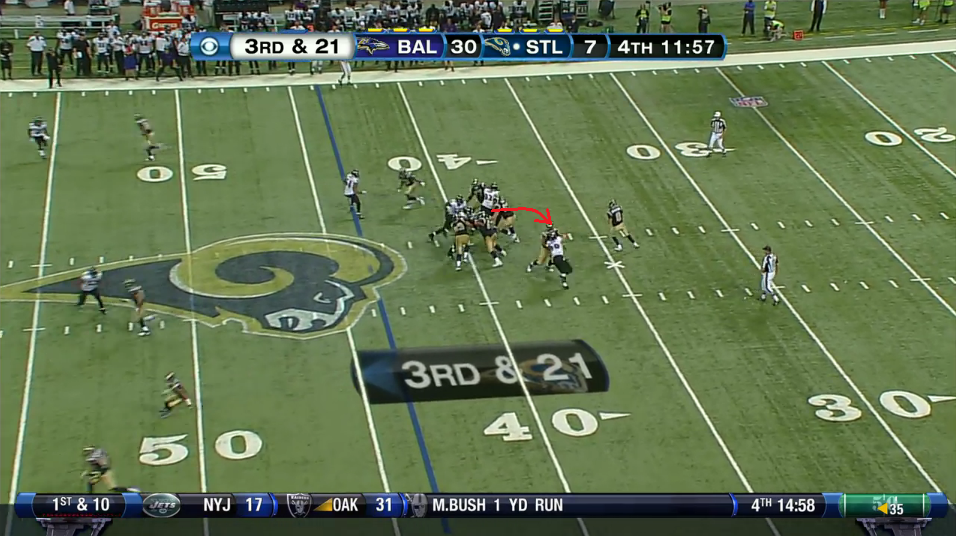 The opposing RT finally realises that there's a stunting rusher in the form of Suggs, and elects to chip block Redding to help his fellow lineman out.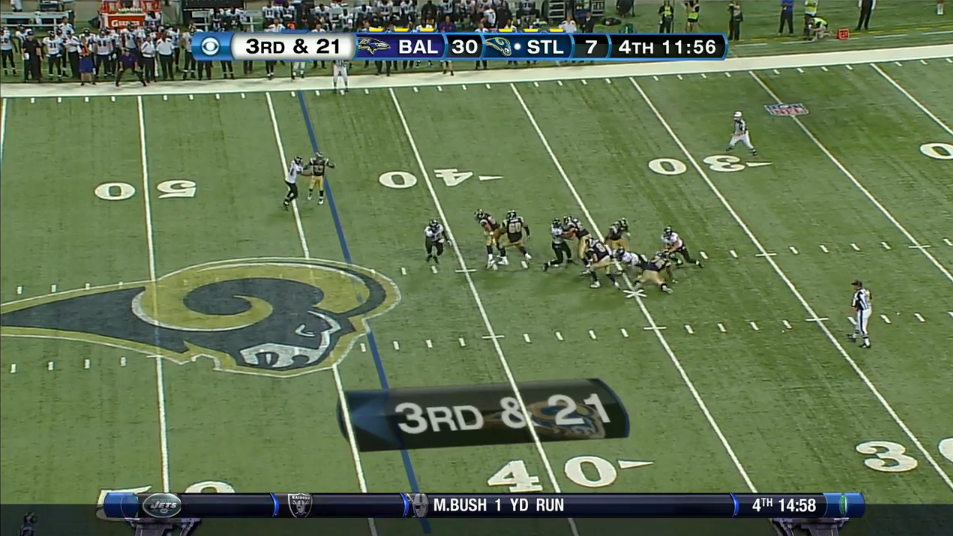 All this serves to do however is to complicate matters for the RG. The chip block unbalances Redding advantageously, and he's thus able to push past the RG with little concern. He turns the corner and grabs a lump of Sam Bradford for good measure.
Bradford goes down for a 7 yard sack which to be fair is inconsequential in the game, but it does demonstrate Redding's ability with leverage and his use of gaps between linemen.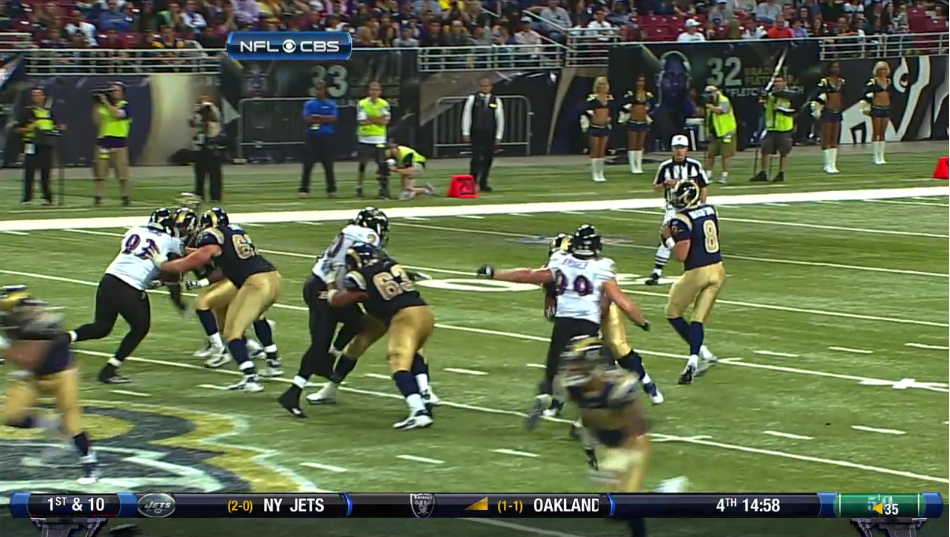 You can see Redding (#93) on the left side of the frame, being chip blocked by the RT while the RG tries to maintain a block.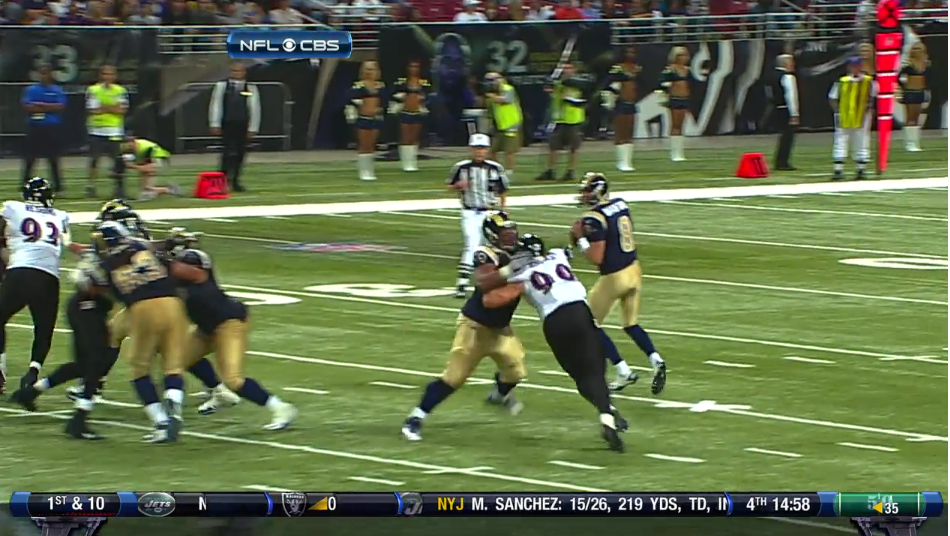 Lo and behold, a huge gap opens up due to the misguided attempt at a chip, and all Redding needs to do is turn the corner.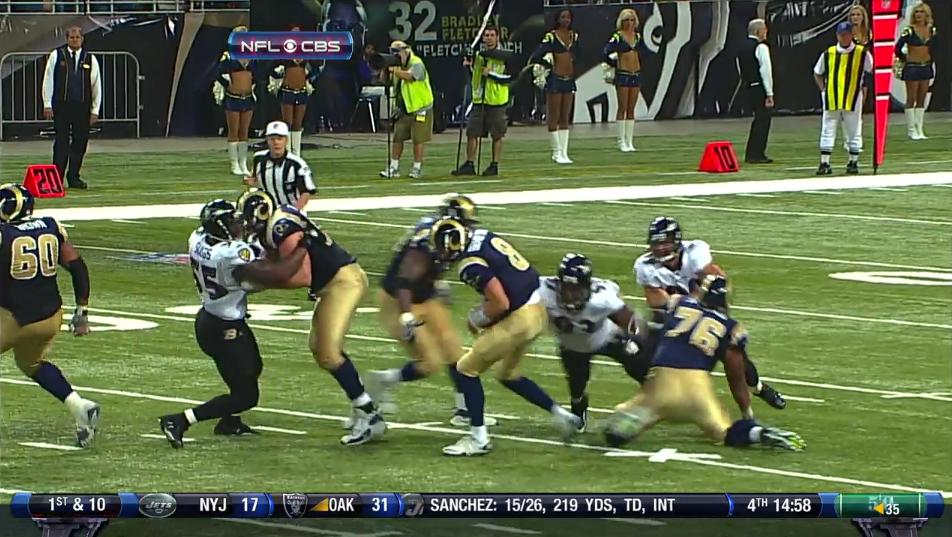 He does so with aplomb, and it's a 7 yard sack. Another impact play for the book.
Play #3 - San Francisco 49ers @ Baltimore Ravens - Week 12, 2011.
The following few plays all transpire in a frankly crazy game, in which the Ravens were clearly set up to be at their best - when rushing the quarterback.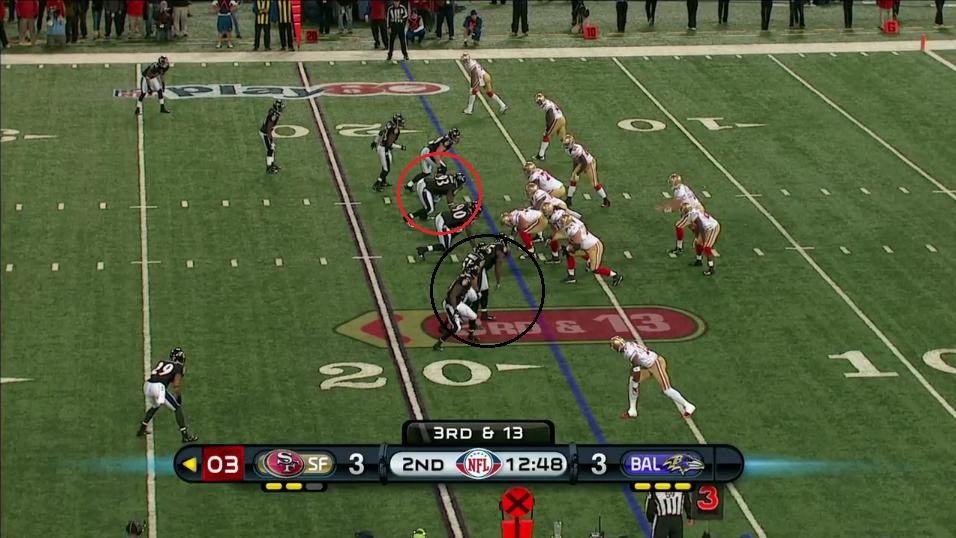 Redding lines up as part of a 2-man line, with rookie Pernell McPhee next to him lined up over Center. The Ravens stack LBs and safeties on either side of the line, and the net result is absolute confusion for the 49ers line. Watching plays like this gets one wondering what Pagano might do to the soft, passive defense we've watched over the past few years.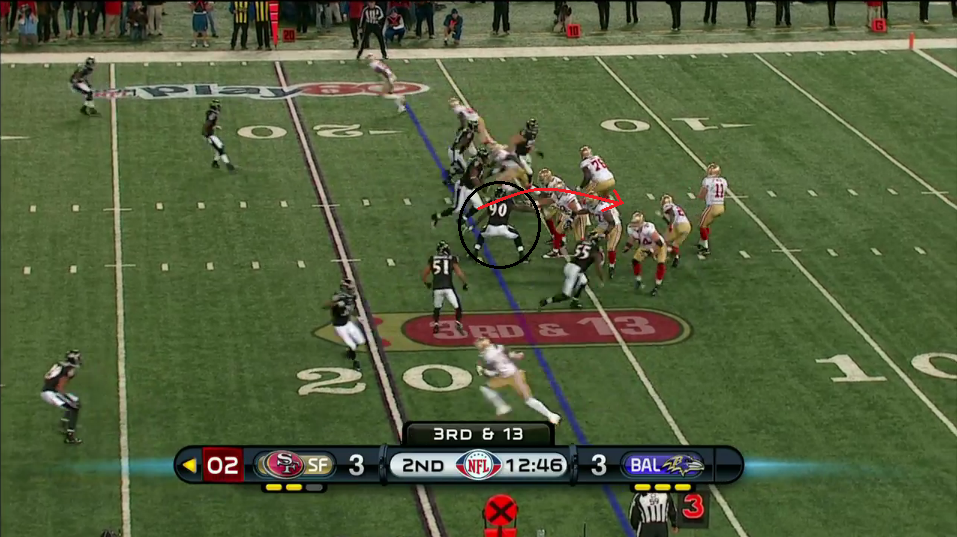 The twist to the play is that while it's a 2 man line, McPhee isn't a designated rusher at all - and despite crowding so many men on the line, it's only a 4 man rush. McPhee shows great athleticism to fake a rush before stepping off into coverage, which entirely disrupts the C and RG tandem on the opposing side of the ball.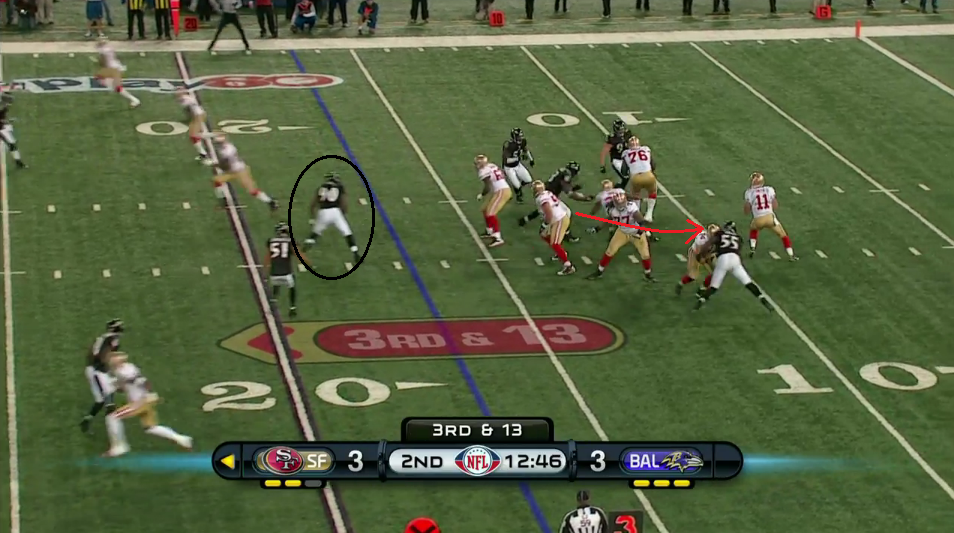 McPhee, still circled in black, drops right off and leaves some statuesque linemen in front. Redding knifes through the gap between the RG and RT, pushes Frank Gore out of the way, and begins to descend upon Alex Smith.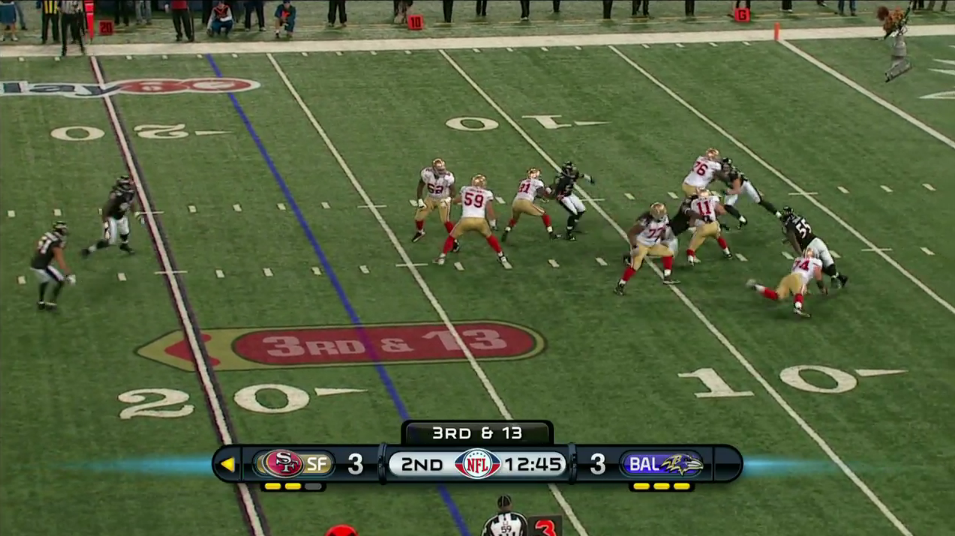 He makes contact at a rate of knots, and Smith crumbles.
The two yellow circles indicate two bunches of three Ravens defenders - Redding is circled in red, McPhee in black. Watched the hapless attempts at pass protection which ensue.
The tackle kicks out to deal with the opposing OLB - Jarrett Johnson in this case - leaving Redding to be blocked by an interior lineman and perhaps the roving RB in pass protection. As it is, McPhee's false blitz and drop into coverage do enough to distract the RG, giving Redding a fairly clear path to the QB.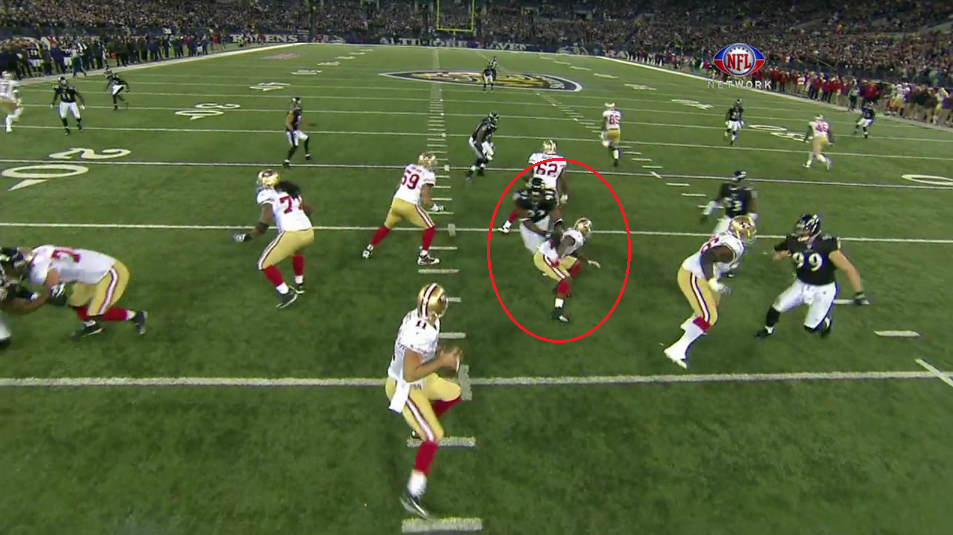 Gore has to pay attention to the delayed blitzer, but inexcusably does absolutely nothing to obstruct Redding on his way to the QB. Alex Smith for his part should be looking to release the ball at this point.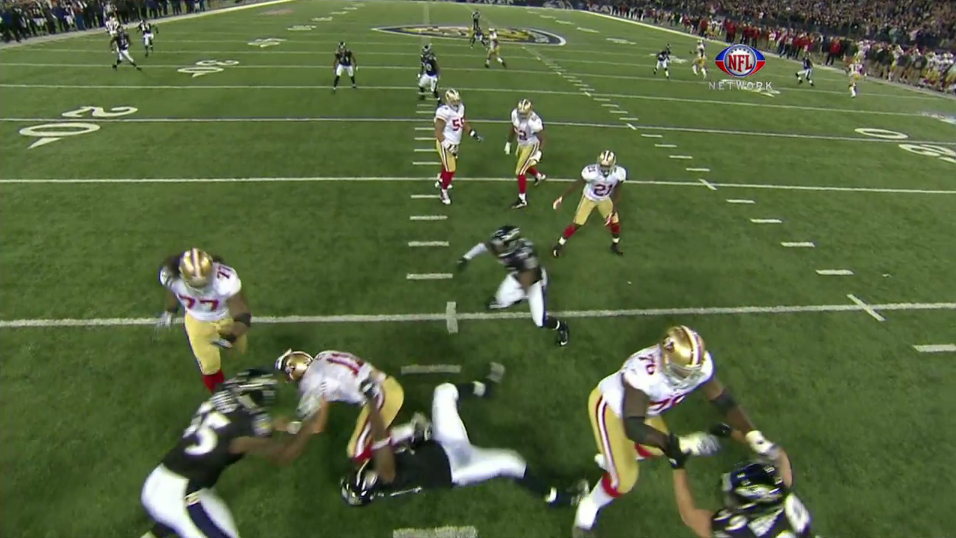 Predictably, he suffers for his lack of awareness.
Play #4 - San Francisco 49ers @ Baltimore Ravens - Week 12, 2011.
More than anything else, I like to see effort from players when I look at a game. If the guy concerned is hustling on every play and playing to the whistle, I can to an extent overlook a lack of production. Redding possesses hustle in spades, and is willing to line up anywhere and deal with anyone on the opposing Offensive Line.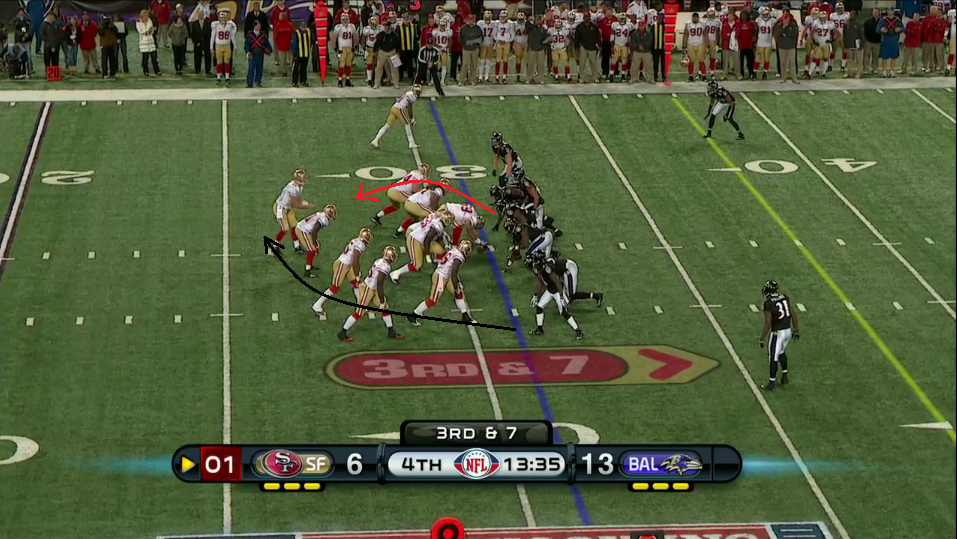 In this instance, the Ravens crowd the line with linebackers and defensive linemen, to combat the heavy set in which the 49ers line up. Redding is lined up over LG and will rush to the edge and deal with the LT on the perimeter. Worth watching is Lardarius Webb, who's blitzing from the other side of the line around the edge.
While Webb has the benefit of open space and more confused pass protection, Redding is forced to deal with Joe Staley at the LT spot. He knifes outside and tries to set the edge, which results in the play being a positive one.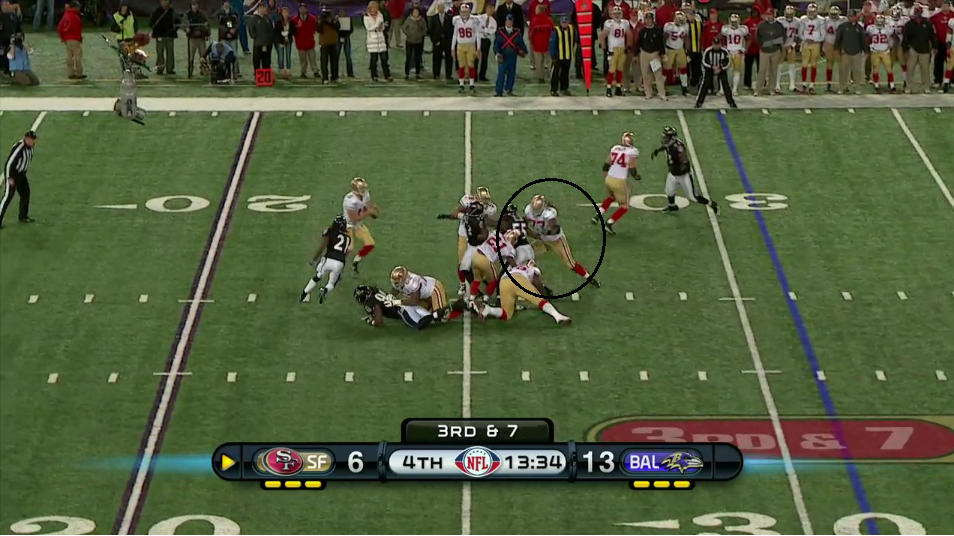 Webb still has a free path to the QB, slightly lengthened as Smith moves in the pocket. Redding's persistence and seemingly less dangerous route allows Mike Iupati (LG) to detach himself from the confrontation out wide and deal with Terell Suggs. Fortunately for the Ravens, the play design necessitates a rollout left by Smith to escape the free blitzer in Webb. Redding's position on the periphery is thus crucial to how the play develops, as Smith can't look for a block from his LT, and he also cannot seek to scramble into the territory directly in front of him.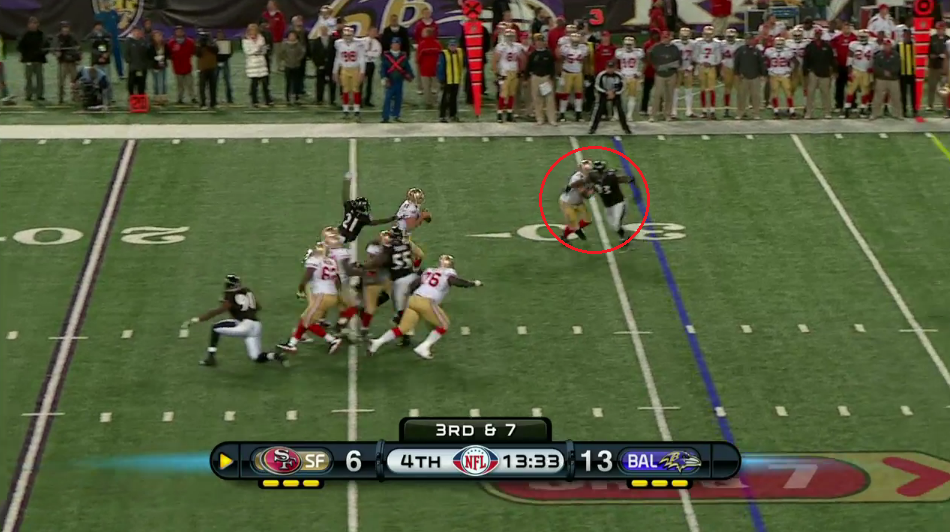 Eventually - and with attention to what's going on in front of him - Redding spots an opportunity. He sees Smith scrambling inside, he knows that Staley has no idea of his QB's positioning. He struggles inside to cut off Smith's attempted scramble.
Both Webb and Redding make contact, and it goes down as half a sack each. Without a doubt, the play would not have proceeded in such a positive fashion had Redding not maintained his effort and position on the edge.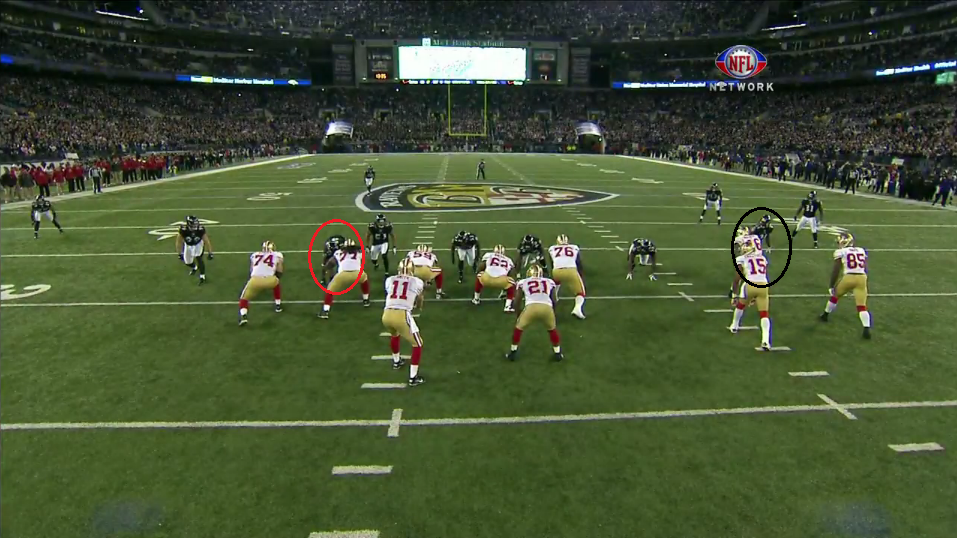 From a position of apparent strength, with blockers inside, the 49ers again crumble in the face of some slight deception. Webb is poised on the edge, and with Jarrett Johnson shadowing the outside of the LT, there's little to indicate what's coming.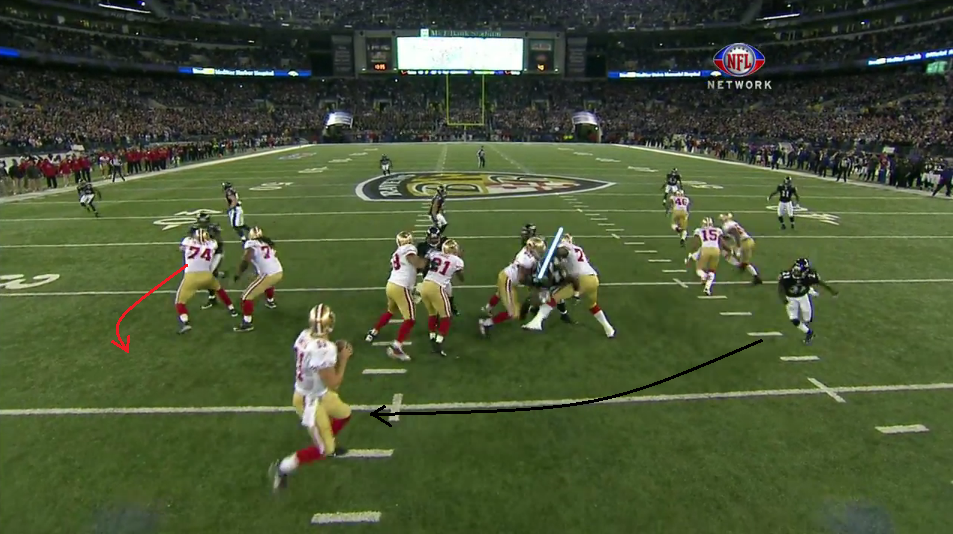 As you can see, Iupati initially deems Redding as enough of a priority to chip and help out his linemate. Smith can see in his peripheral vision that Webb is advancing on him, though at this point I'd like to question Frank Gore in pass protection. Not sure why Ngata is his priority ahead of Webb at this point in the play, but there we go.
If Redding isn't there, it's a likely scramble and gain for the 9ers. As I mentioned before, his presence out there complicates things for Smith and contributes towards the sack in a big way.
Smith gets crushed again, and the Ravens march on.
Play #5 - San Francisco 49ers @ Baltimore Ravens - Week 12, 2011.
And yet, there's more to come in this horror show from the 49ers. While the previous two plays have been more focused on the pass, a quick jump back to earlier in the game shows the kind of success the 49ers had when the Ravens wanted to stop the run.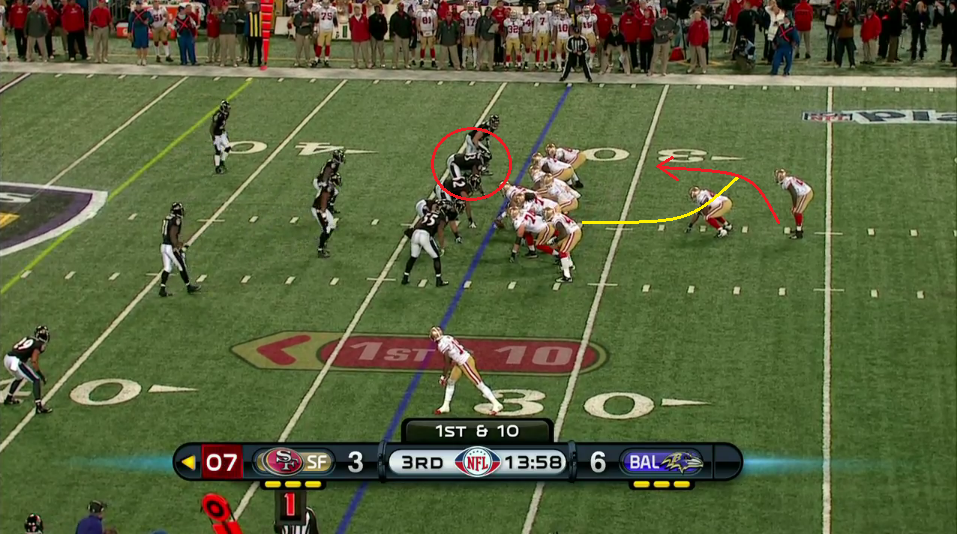 The play in question is a designed toss to the right, straight into the stout run defending due of Redding and Johnson.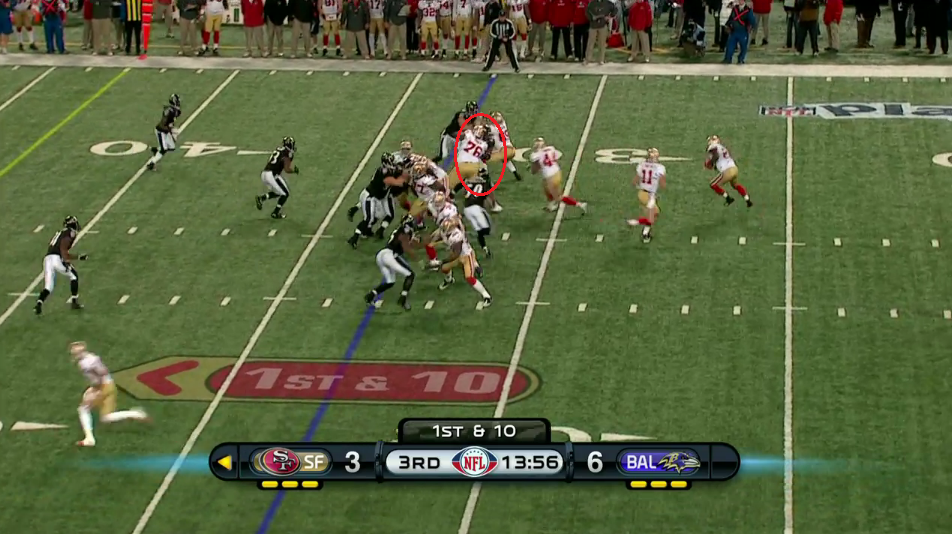 He cuts inside through the RG (familiar?), taking full advantage of the gap between Tackle and Guard. Gore doesn't take the handoff particularly well, and it has an impact on the play.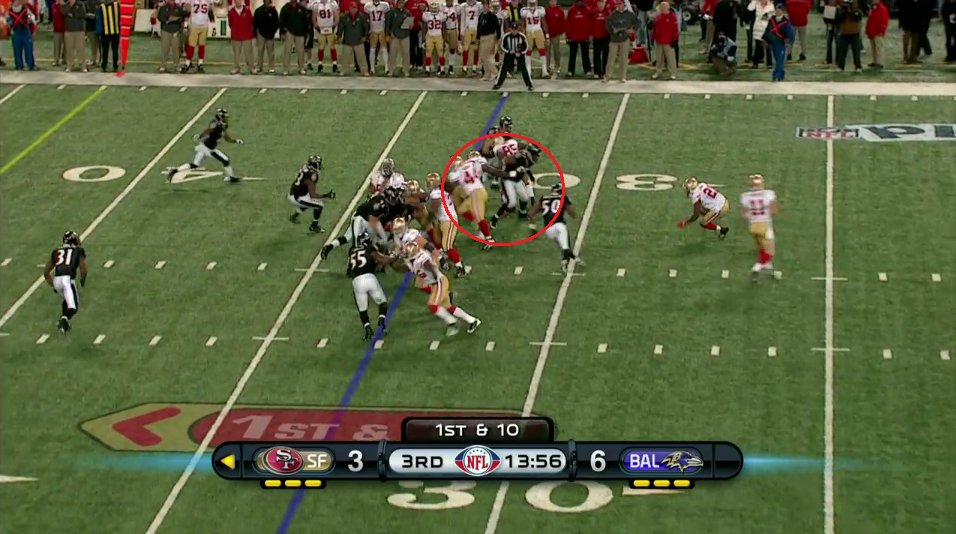 He absolutely handles the RG and rushes straight through the gap. Gore stumbles as he tries to make a cut, and it has the result of slowing him down in the face of two Ravens defenders.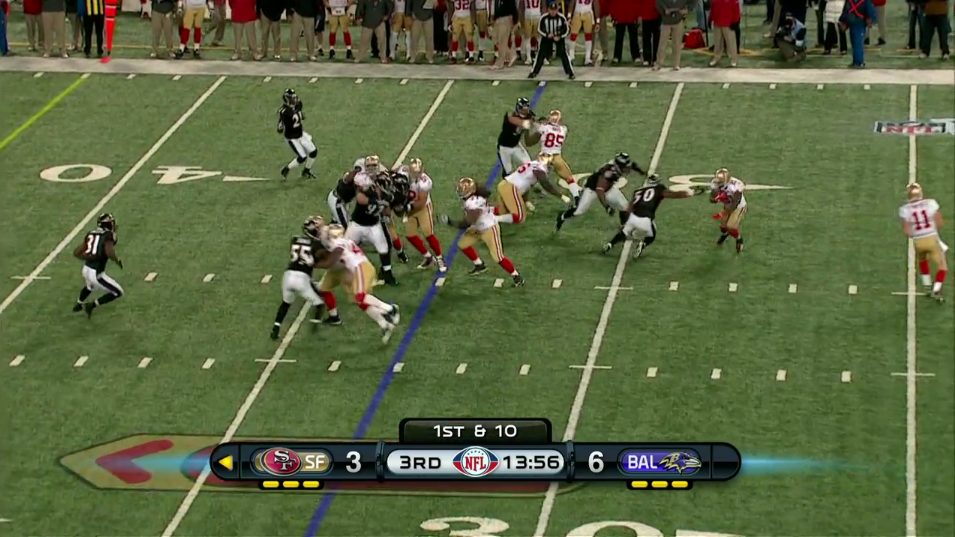 He does enough to move past one linebacker, but the presence of Redding is sufficient to stop him in his tracks.
Cory manages to grab enough of Gore as he whirls around the edge. If Gore can spring free, this could be a good gainer.
However, we wouldn't be looking at it if it was. Redding brings him down for a 2 yard loss, which in a tough 3 point game is a considerable play.
Conclusions:
Having not watched much of the Ravens last year, it was still enjoyable to see such a reputable name join the Colts this offseason. After looking at these plays and a few others, I'm more than happy with what Cory Redding brings to the table. He's clearly a hard worker in game situations which translates to late sacks and coverage pressure. He also shows the ability to engage and disengage from blocks at will, which takes advantage of his awareness on the football field and directly translates to plays made on the football, whether it's carried by the QB or RB. He clearly possesses athleticism in chasing down opposing players, and I look forward to seeing him in a Colts shirt.
Concerns may revolve around the very talented colleagues he worked with in the past in Baltimore, namely Haloti Ngata, Ray Lewis, Terell Suggs et al. While I do agree to an extent that this may exaggerate his impact, he's clearly an important cog in the Pagano defense, and bringing him to Indianapolis will allow him to educate other players surrounding his position, in the hope of a quick transition to the flexible system of Pagano, which was a joy to observe. The use of linebackers and DBs to confuse and obfuscate offensive gameplanning is akin to the better defenses in the NFL. We can hope.
In the event, the contract was signed for 3 years with a rough value of $10.5m. If he can aid our transition while producing similarly on the field, he'll be worth all of that and more.
Keep it up, Grigson and Chuck, and let me know what you think.
Go Colts.
As long as we stop giving eight-yard cushions and nice, big gaps in zone coverage.
I would like to see some of Redding's limitations. Anyone have any thoughts?
 @Kyle Rodriguez Yeah, I love these in general because they highlight both pros and cons. Would have been nice to see what we won't see from this guy as well. Still, a nice job breaking down all the positives of this new Colt. Thanks.
What do I think? Poor Ravens fans, that's what I think. Such a stud-studded (?) defense, but Flacco running the offense.