Eyes in the Backfield-Broncos
18 Things to Watch For in Sunday's Colts Broncos Game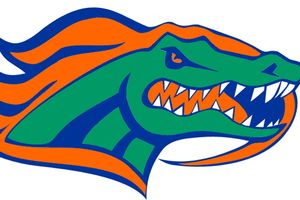 This is scary on soooo many levels.
Last week the Colts erased all fears and in the process destroyed the Giants.  Now they head back on the road to take on the Broncos.  The Colts have had their way with Denver in recent years, and will need to get the best of them one more time if they hope to have a winning record for the first time this season.  This week, watch for...
1.  Watch the Ace.  With Pierre Garcon hurting, it stands to reason that the Colts will use a lot of their two tight end set.  Frankly, it's a welcome change.  The two TE grouping creates more flexibility than the three wide package.  The Manning can seamlessly check from run to pass plays knowing that he can use Dallas Clark however he wants.  After a strong game by Brody Eldrige blocking last week, watch for more playing time by the rookie.
2.  Watch outside.  In the same vein, Austin Collie has suddenly become one of the only healthy wideouts the Colts have.  Though he's seen as a natural slot receiver, he may have to play outside on Sunday.  The Colts other option if Garcon is hurt is to flex Dallas Clark out wide and keep Collie in the slot.  Collie has had a spectacular start to the season, with only a tough fumble (after being hit by three players) in Houston to blemish his record, but this will test the limits of his skills.
3.  Watch for the Shark.  The Broncos have been battling injuries in the secondary all week.  Corners Champ Bailey and Andre Goodman have been held out of practice almost all week.  This is a nightmare for the Broncos as Peyton Manning can sense when there is blood in the water with a secondary.  If a back up corner gets lined up against one his targets, Manning will go to him over and over.
4.  Watch the emotion.  No one can predict how the tragic news of the death of injured WR Kenny McKinley will affect the team.  Suicides are devastating and affect people differently from other kinds of passing.  The Broncos could come out inspired or in shock.  For a team that has suffered more than its share of painful losses, Sunday will be a stiff test of their resolve and professionalism.
5. Watch for a lack of balance.  Only not from the Colts.  Through two weeks, the Broncos have the best passing offense by DVOA at a stunning 73% better than average. They have the 5th worst run game at -30.4%.  To make matters worse for the Broncos, they are playing without RB Knowshon Moreno.  Oh, and they are playing defense built to stop the pass.  They are going to have find a way to protect Kyle Orton if they want to win.
6.  Watch for the turncoats. With the Colts playing a legendary Purdue quarterback, watch your Boilermaker friends turn on the Horse.  Unless of course Peyton Manning gets hurt and then Curtis Painter plays.  Then it will be Purdue on Purdue crime.  That would suck in so many ways, but at least we'll get the satisfaction of seeing at least one black and gold alum suffer.
7.  Watch the race.  Peyton Manning is currently only 659 yards behind John Elway for third on the all time list.  I realize that it's probably unlikely that Manning will catch Elways on Sunday, though you have to admit that if he threw for 660 yards in Mile High to beat the Broncos and catch Elway, that would be the biggest 'screw you' of all time to the city of Denver.  By the way, Manning has now thrown for more TDs and completions than Elway, and trails him by 16 wins on the all time list.
8.  Watch for the blitz pick up.  Joe Addai is hurting.  Even if he plays, he might be limited.  That means that Sunday could well be Don Brown's big opportunity to steal more playing time.  With Addai in a walk year, the Colts desperately need Brown to show that he can be the lead back.  Frankly, the real worry has been his ability to block in the passing game.  Manning trusts Addai to make the big blocks necessary to keep him upright.  If Brown can stone a few linebackers and make a couple of nice chips, it could signal that he's ready to take his place in the Colts backfield regularly.
9.  Watch the active list.  Seeing Jerry Hughes inactive for the first two games has been troubling, but if there was ever a game where you need an extra DE, it would be Sunday.  The Broncos love to throw, and the Colts will be playing at altitude, which means there's a priority on rotating out Freeney and Mathis.  My expectations for Hughes are modest, but they do include actually being active on Sundays.  If he's not a go this week, you have to wonder what's happening.
10. Watch the $11 million battering ram.  I'm on record as questioning the Tebow pick, but now that he's on the roster for the Broncos, they have to figure out how to use him.  To this point, the plan seems to be to ram him into a wall repeatedly.  He's had two short yardage type runs for a total of 1 yard.  After watching him in camp, the Broncos extended Kyle Orton.  Now they figure they have the league's most expensive fullback.
11. Watch for the King of Mile High. You can add Denver to the list of teams that Peyton Manning has owned during his career.  Like Baltimore and Houston, Manning has slaughtered the Broncos. Manning is 7-2 against Denver (with one loss being a meaningless end of the year game in which he played one series).  He beat them twice in the playoffs and his numbers against them are insane:  66.5%, 2165 yards, 21 TDs, 6 picks, and a rating of 108.4.  Considering that he basically put up those numbers in 8 games, you can do the math yourself, double them, and realize that he dominates Denver.
12. Watch for Crash and Burn. Jason Whitlock dubbed Mathis and Freeney that this week.  Both men are on fire this week with three sacks a piece.  I see the Colts opening up a big lead on the Broncos and then turning loose the big dogs to feast.  Look for both men to pick up at least one sack this week against Orton.
13. Watch the linebackers.  Session is ailing again this week, and Brackett is listed as probable.  Without Session and Brackett at 100%, the Colts backers are a below average unit.  Last week, Caldwell said that rookie Kavell Conner was noticible for not making any big mistakes.  That's all we can ask for from the linebackers right now.  As long as everyone does their job and no one screws up too badly, we'll have to settle for a lack of big plays from them.
14.  Watch what's missing.  Last year, the Colts handled Denver pretty well at home, but an insane 21 catch day by Brandon Marshall got the Broncos back in the game late.  The only problem for Denver is that neither Marshall nor the man who covered him most of the day (Tim Jennings) are going to be on the field on Sunday.  The Broncos new top WR is Eddie Royal, who had a strong rookie year in 2008, but saw a dramatic drop in production last year.  Rookie Demaryius Thomas had a nice game in week two, but without Marhall (and Jennings), you have to wonder where the Broncos are going to get their offense.
15. Watch the deer.  CBS is sending their top crew of Jim Nantz and Phil Simms to the game.  They are perhaps the least critical pair in the NFL, and Simms always finds a way to fawn over Peyton Manning. The only problem is that he'll probably fawn over Kyle Orton too.  I refer to Nantz and Simms as "Buck and Doe", because their games always have so much fawning going on.
16. Watch the most overrated underrated player in football. Kyle Orton is not good.  Somehow, he's managed to put up half decent numbers despite, not being good at football. Because of that pundits love to talk about how everyone over looks Kyle Orton and how he's secretly a competent QB.  He's not.  He sucks.  Sure he put up 3,800 yards and a rating in the mid 80s last year (a vintage Brady kind of season), but he's basically just a guy.  He's not going to win you a Super Bowl, and he's probably not even going to take you to the playoffs.  He faded down the stretch last year, and has played two bad teams to start this year.  I'm selling, not buying Kyle Orton.
17. Watch the spelling.  For some reason, I can't spell Broncos.  Seriously.  I type Bronocos.  Every time.  It's like Pat Bowlen bought a gas station or something.  It's not even that hard of a word to spell.  It's a mental block.  I can't explain it.
18.  Watch for the beat-down. I'm convinced Denver is a terrible team. They have a terrible defense. They have a terrible running game.  Suddenly, I'm supposed to believe that Kyle Orton is an elite QB who is going to keep them in games?  No.  Sorry.  No.  Indy wins big 35-10.