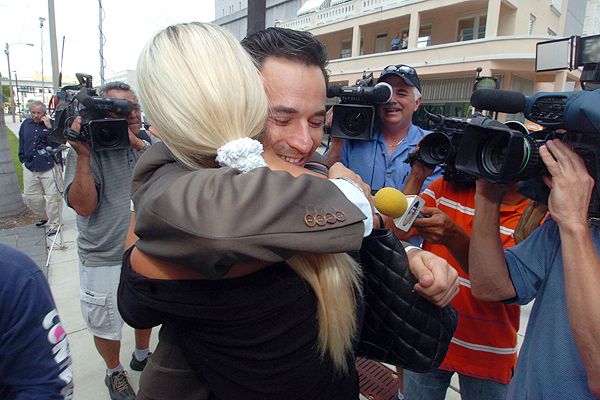 Helio Castroneves hugs the wife of one of his attorneys Friday outside the Miami Courthouse.
The long national nightmare nobody cared about is over. According to the AP, "The Brazilian race car driver and 'Dancing With The Stars' champ Helio Castroneves was acquitted Friday of most charges that he worked with his sister and lawyer to evade more than $2.3 million in U.S. income taxes. The federal jury acquitted Castroneves on six counts of tax evasion but was hung on one count of conspiracy."
On the off chance that anyone is still reading... What does this mean for the sport?
1.) The IndyCar Series will have its most marketable star, not named Danica Patrick, back in action. Losing Helio to prison would have been a horrific blow to the already struggling racing series. They get him back in time to participate in 95% of the 2009 season.
2.) Helio will attempt to qualify for the Long Beach Grand Prix tomorrow in California. Think the league's PR department wouldn't love to see Helio take the checkered flag on Sunday?
3.) I get the chance to tell you that the IndyCar Series will duke it out on the streets of Long Beach, for the 35th edition of the famous race. Check it out Sunday @3:30PM ET on Versus.
Links:

Oehser picks Jerry in the Examiner mock.
His reasoning jives with mine.
Silver is a psycho
. He redrafts the league, with Larry Fitzgerald going #1 and Peyton #2. He has Freeney going in the first round and the Colts taking Eli. Whatever.
Herb Simon talks
Blue and Gold.
Shake does a great job talking the draft
.
BTW: our mock draft is coming.
Here's a superb
radio interview with Peyton
Via Stampede Blue,
Dom Rhodes goes to Buffalo
. The odds of the Colts taking a RB early next week just shot up. We can't go into the season with just one viable back, and I don't want to hear about Mike Hart. He's hurt, and might not even make the team. We wish Dom all the best, and hope this contract works out better than his one with the Raiders.
A look at the "Magnificent 7"
...The 7 metro Indy players in the NBA right now had pretty solid seasons.
Our new best friend Bob Kravitz offers Helio
some unsolicited advice
.